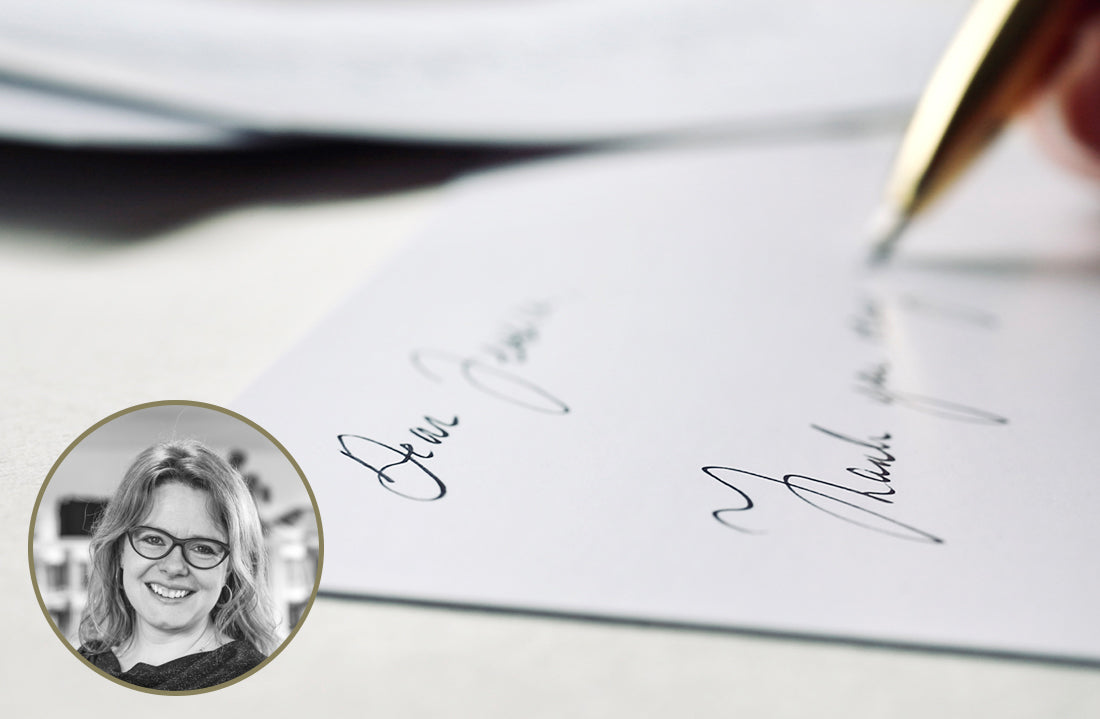 Guest blog – Dr Fiona McMaster, on the psychological benefits of writing
In the stack of 10 or so letters you've just picked up by your front door, there's one that stands out from all the rest. It's not the bill, the takeaway menu (well ok maybe later that will come back into play), or the latest broadband deal. It's the one in the beautifully textured envelope with your name on it that's been carefully written by hand.
When it comes to handwritten communication, psychologically we are drawn to the tactile & tangible element of it, our brains are attuned to notice things that are different. Hence why you'll always bypass the generically typed mail and go straight for the handwritten one, as it's a bit of an unfortunate rarity these days to receive such a thing.
At Sleepy Bee Studio we obviously love the design side of things, but we also love learning about the psychological element of writing & wanted to understand more about the wellness side of it all. So we were very lucky to be able to interview Dr Fiona McMaster to find out a little bit more behind the benefits of writing along with her own personal fondness for it & how she has used it over the years.
CAN YOU DESCRIBE A LITTLE BIT ABOUT YOURSELF AND WHAT YOU DO? 
I'm Fiona, and I run a company that supports research, training and mental health in the workplace. I've had a pretty varied career, working in different parts of the world - I have a PhD in public health, and was once an academic researcher into how we have conversations that promote positive change. At the moment, I spend a lot of time training anyone who works with individuals and families on change - this could be health professionals, teachers, social workers, coaches, fitness professionals, or even managers. I love these sessions - collaborating with people who are at the front line of making a massive difference to people who might be struggling is really rewarding. 
YOU ALSO SAID YOU SUPPORT RESEARCH, WHAT DOES THIS INVOLVE?
Research and evidence is the foundation of the 'interventions' that can make a real difference to healthy behaviour change. In my current role, I help companies build their research teams to improve the quality of their evidence, and I often partner with them to do real-world research that leads to insights. For some companies, this means doing focus groups and interviews with individuals to get a deeper understanding of how they feel about a product or service. In my previous role, at
Innovia technology
this involved supporting teams doing primary research all over the world by spending time thinking carefully about how questions are formed, and creating a detailed analysis plan that follows strong theoretical reasoning.
CAN YOU GO INTO DETAIL AS TO WHY LETTER WRITING AND JOURNALING HAVE SUCH A POSITIVE EFFECT ON PEOPLE? 
We think writing letters and journals is positive for us because it helps us really think through what we are going through and how we are feeling about it. A lot of the time we can be overwhelmed by the volume of tasks and worries that take our attention - if it's health, family, kids, relationships, work, house chores, or something else that feels pressing, but something about keeping a journal seems to help our brains process our reality - whether that is a few bullet points about our day, a gratitude journal where we articulate what we are thankful for, or more long-form writing. Researchers have been investigating what benefits there are to journaling, and the great news is that there are loads - from reducing the symptoms of depression and anxiety, helping people cultivate creativity, gratitude and happiness, to coping with serious life events and even helping with sleep. There's no 'best' way to journal - notes, poems, drawings or longer forms of writing can all be useful. The research suggests that writing about worries can be helpful, but that including some positivity or gratitude is likely to have a more beneficial impact. 
YOU BOUGHT ONE OF OUR YEAR OF LETTERS SETS AND SENT IT AS A GIFT TO A FRIEND, CAN YOU DESCRIBE THE PROCESS OF HOW LONG IT TOOK YOU TO WRITE ALL 12 LETTERS, WHAT KIND OF MESSAGES YOU ADDED, AND WHAT REACTION YOU GOT FROM YOUR FRIEND? HOW DID IT MAKE YOU FEEL GIVING SUCH A PERSONAL GIFT THAT TOOK TIME TO PUT TOGETHER? 
The 12 letters gift is one of my absolute favourite gift ideas. I've bought it and given it to friends who love to write - for them to write letters, and I've done a few 12-letter sets for friends of mine. To be absolutely honest, the first time I did this, I didn't leave enough time to write the letters. I decided to send this to a friend who is so close, she's basically family, and had run out of steam by about month 10. The result was actually pretty funny - she really enjoyed the difference between longer letters reminiscing about our friendship, and the - honest 'I have been writing for 4 hours, nothing's left - here's a £10 note' approach too. 
The second time I did this, it was for a dear friend who had just returned to the UK after living all around Africa for the past 15 or so years. This time, it was a bit more thought- out. I planned what I'd cover in each letter and it felt a bit more structured. I included instructions like - PHONE ME, or 'let's meet for lunch this month' to make sure we had more contact even when life is so busy.
For both friends who received this, they really looked forward to opening each month's letter - and I'm sure this meant we were more regularly in touch. I'm about to get started on another couple of sets, so I should probably put a few days aside to remember my own advice and plan!
HAVE YOU EVER KEPT A HOLIDAY JOURNAL?
I've been clearing out some old boxes and found holiday journals I kept as a child. I also found a journal that my mum kept when she went camping as a teenager! My mum's journal was very detailed and in excellent handwriting - mine had a lot more of a 'collage'; when I was 8, it seems I was quite interested in the different packets of sugar there were at breakfast. 
DO YOU HAVE A MEMORY BOX OF OLD CARDS AND/LETTERS OR NOTEBOOKS?
I keep all these things! I have tons of folders of cards per person in the family. It seems that I'm not the only one - in my recent clear-out I found some journals from my great-great grandfather!! One of them was an essay about the Isle of Wight, but what I loved most of all was that he just stopped mid-sentence. Turns out I'm not the only one to have ideas that don't quite make it! I love that people in my family kept things from their lives - reading letters between distant relatives has been a joy and really tells us a lot about how similar we all are (even if we have different ways of communicating). Really strange to think that it would have taken a letter to tell a new girlfriend/boyfriend where to meet for a date!


CAN YOU THINK OF A GIFT THAT YOU'VE RECEIVED THAT REALLY STANDS OUT IN YOUR MIND IN TERMS OF THE THOUGHT THAT WENT INTO IT?
My mum once sent me a load of snowdrops from 'home' in Scotland for my birthday. It was lovely and original to get this through the post! I've had other amazing and thoughtful gifts - I really think the thought makes it amazing. Earlier this year I received a voucher for Aktar at home at a time when I'd had some bad news and two long-distance friends wanted to 'cook' for me virtually -  the absolutely amazing curries were so welcome and I have now become a very loyal customer. 
 

BASED ON THE WELLNESS SIDE OF DOING SOMETHING CREATIVE, HAVE YOU EVER BEEN OR WOULD YOU EVER GO TO A CRAFT WORKSHOP WITH YOUR FRIENDS?
Absolutely! I love going to events that teach new skills. In 2001, I was working in a violin factory in China in a pretty small town. One evening when I was walking home, I mentioned to my manager that I saw some children learning Chinese calligraphy, and how interesting it was. The next night, there was a spot laid out for me - so I spent many evenings that summer learning a particular kind of 'easy' Chinese calligraphy alongside some primary school children. My friends seem pretty similar - and they have taken me to painting and pottery workshops and also cookery events. There's something about doing something crafty with friends that can be meditative and 'unlock' different types of conversation and togetherness.
FROM A PSYCHOLOGICAL STANDPOINT HOW IMPORTANT DO YOU FEEL WELLNESS AND TAKING TIME FOR YOURSELF IS? HAVE YOU MADE ANY SORT OF RESOLUTIONS TO DO MORE OF IN 2023 THAT RELATE TO WELLNESS?
Figuring out what it is that makes you 'tick' is just about the most important thing you can do - not just for yourself but for all your loved ones, your family, friends, colleagues, network. So many of us are really busy with work and tasks that end up feeling like obligations. Real wellness is figuring out what makes you really feel at your best (not what other people think is best for you!) - it may be being in nature, or spending time with friends, or time alone - the important thing is that it feels restorative and enables you to do all the other things that make your goals possible! For me, it's very important that I spend time outside - on my own or with friends. More than anything else, spending time where I feel the seasons change and where I get more connected to nature can help me feel more positive. Having a dog helps with my resolutions to be outside, but I have been trying to get out and explore more and find new paths, views and adventures as well as my favourites.
FINALLY, ARE THERE ANY OTHER SMALL BUSINESSES OUT THERE THAT YOU THINK PROVIDE A REALLY GOOD CUSTOMER EXPERIENCE & THAT YOU HAVE RECOMMENDED TO FRIENDS & FAMILY?
It's always interesting - finding a great brand and then deciding to recommend it rather than keeping it to yourself for future gift-giving! I love finding something new and then sharing with my friends in the hopes that they order products in the future. I spend a lot of time looking for brands that fit with my values - I love to support small businesses and creative enterprises, especially where they design and produce products in house. Sleepy Bee is an absolute favourite of mine - not just because of the beauty of the products, and the amazing service provided, but because there is real thought and innovation in the choice of materials and production methods. I've also really been impressed with Jin Designs, based in Brighton- doing homeware with really simple and cute animal designs.