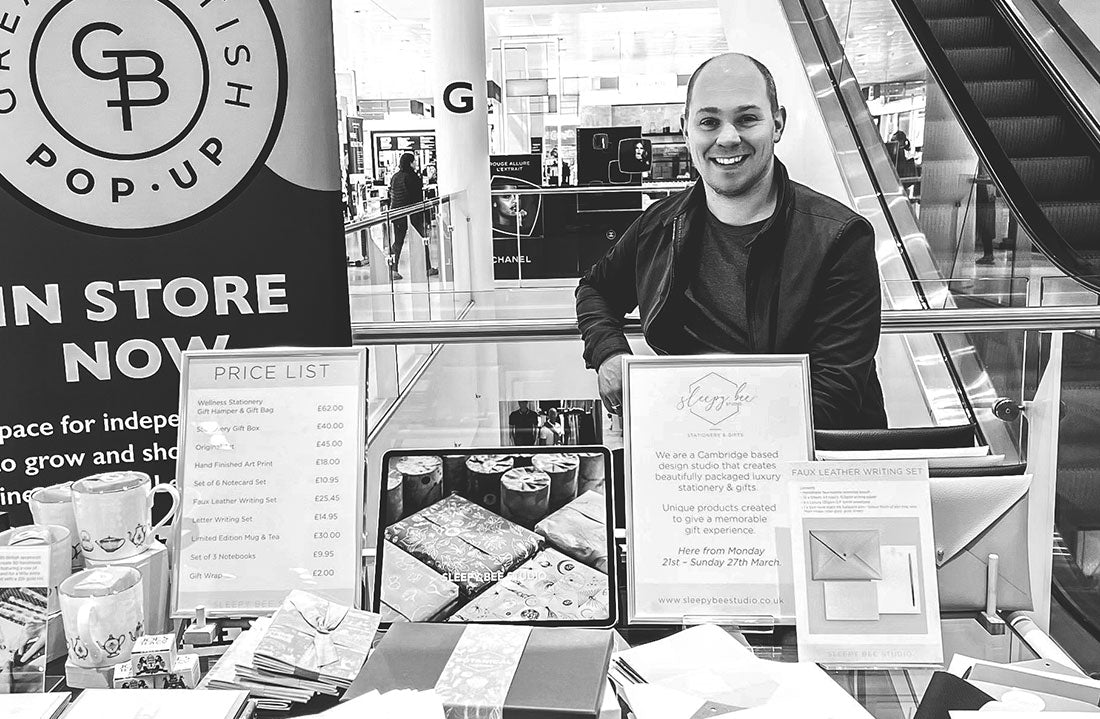 Doing a pop-up shop at John Lewis Cambridge
We recently had the exciting opportunity to do a pop-up shop at the Cambridge branch of John Lewis on their ground floor via a business called the Great British Exchange; who work alongside big retail brands to place small businesses into stores for a week. You apply online and basically submit a few images of your items along with product descriptions and prices and tell them all about your brand. You then get feedback within a week as to whether or not you've been approved by the John Lewis buying team to display your lines in store or not. Then you wait to hear from GBE on what dates are available (prices differ based on the time of year). I follow a few people on Instagram who have done these and so I got in touch to ask them how long they waited before actually doing a pop-up and they said it took a few months, so I thought we'll that's good I've got plenty of time to get stock ready, how wrong I was! I was emailed just under 2 weeks later with a selection of dates, the soonest was 21-27 March, the week before Mother's Day, so without hesitation I emailed back saying we'd like to take that week. They got straight back saying ok great, that's all booked in, best of luck for the week after next! Eh? It was at this point I checked what the current date was and nearly fell off my chair when I realised I had precisely one week to prepare all of my stock. So tip no.1 is before you confirm your date, be aware of the actual date it is on the day!
PREPPING STOCK
This time last year we were extremely busy with online sales for the weeks leading up to Mother's Day however due to the dip this year it seemed like now was a good time to take the opportunity to meet people and talk about our brand. The week of prep though was a busy one and coffee was basically my elixir of life to help me get through the very long days!
AHEAD OF THE POP-UP
So once you've been booked in and it's all confirmed they send you a spreadsheet to fill in with your product details and prices (bear in mind that commission is taken per sale and that vat is also deducted so you either have to absorb it if like us you're not vat registered, or add it to your prices). They also send through a pdf of your chosen store detailing the space you'll have and you will be contacted by a member of the team at that particular store who will be your main point of contact for the week and arrange for you to drop off your stock the day before you open.
DAY ONE
You are asked to arrive at 8am and you have 1 hour to set up your stand as they open at 9am on Monday and so be prepared to get a bit frantic opening-up all the boxes to get your stock out! Have either a knife or a pair of scissors to hand when you arrive in the morning, along with a cloth to clean any surfaces if needed. Don't worry if you aren't 100% set up when they open as it isn't very busy to start with, the main thing is to just get everything you need out, and you can then take longer to arrange it how you want. They will also have a small room or allocated space for your stock so that you don't have to put every unit out on display.
Tip: Try to set up your phone to do a Timelapse of you setting up your stand, it's good for social media and as I was on my own and panicking about getting it done in time I totally forgot. Alternatively you can just try to film little snippets or just take photos and then put them all together to make a reel.
HOW YOU TAKE PAYMENTS
As the pop-up is a completely separate unit to John Lewis it means that customers can't take your stock and pay for it at a till, there's no barcoding or labelling needed as you'll be given an epos machine (with your items pre-uploaded) for payments. I had a flipping nightmare on day 3 when it just kept coming up with errors, the issue is that the Wi-Fi isn't great in store and the unit has to be plugged into a Wi-Fi booster but the short lead and plug on the floor meant it wasn't in the ideal place for signal, so we were able to get an extension cable so the unit could be a bit higher up and that definitely helped a bit.
POP-UP REQUIREMENTS
There are a few requirements on the pop-up pdf that you'll be sent, With food & drink you are allowed to have a bottle of water hidden away, but no food or hot liquid is allowed at your stand. The concept of not having a coffee until nearly noon was deeply troubling for me and so I honestly would recommend having a second person with you for the duration of the pop-up so that you can alternate and have a little break away from the stand. It is mentioned on the pdf that 2 people are required at all times but more in the sense of making sure there is always someone on the stand due to it being the only place payment can take place, you cannot ask other staff members to go on your stand so it's your responsibility to have it manned at all times.  Also just in general it's nice to have someone with you for support. As ours was so last minute I didn't have the chance to arrange/bribe anyone to do the full stint with me, so instead I asked my sisters, and the lovely Lady Janet, if they could pop-in at around 11.30ish so I could go and have a break. Then with a medal-worthy level of guilt-tripping I got Gav to do the full day with me for Saturday & Sunday. I could lie and say he loved every minute of it, but no, after a week of his already extremely busy other full-time job he was decidedly reluctant to join in the retail fun, but nevertheless he did really well & it helped me enormously having him there.
Another requirement is that you have to either have your own branded bags for packing orders, or pay for John Lewis ones. As we were doing ours so quickly there was no time to get branded bags so I used our existing thick foiled business cards and a bit of ribbon on some white Kraft bags that I still had leftover from when we used to do the craft market. Actually worked well as all of our website and social media details were on the reverse.
During quiet times it's good to post on social media and get friends to share, one thing I wish I'd brought from day one is my iPhone stand so that I could do little video demonstrations to use as stories or reels. If you're doing stories, reels etc, always tag GBE as they will share it on their feed.
One other thing I'd say is worth doing is printing out a few large POS stands to help promote your brand, again we didn't have time to send anything to print but if I did it again I'd get a couple of A1 boards printed to put onto portable easel-style display stands as we had to put all our POS on the table we were allocated and it just means there's less space for stock and adding decorative bits like plants, etc.
Obviously this completely differs by location and time of year but the first 4 days on the stand were very quiet. On day one that was fine as I was still fiddling about with presenting stock and doing some last-minute ribboning & preparing of the products. On day two I had moments of wondering how to fill the time. Try not to be disheartened by it (also try to resist the urge to hurdle your stand in a fit of glee and embrace the customer who breaks the silence and buys something).
WHAT WOULD YOU DO DIFFERENTLY & GENERAL TIPS
Be prepared to lose 1 of each product as a 'tester' because people will instantly pick things up and so they will be handled a lot.
Don't add too much text to your POS, as people just don't read it.
Don't be afraid to re-work your display, on day one I put out half a dozen of each faux leather writing set out on stands, but people just didn't understand what they were so on day two I opened up one of each design and put the remainder stock on the lower tier of the table
Keep business cards on display for people to help themselves
Think about your display ahead of time & if you need any props, I managed to order a load of plate racks from ikea so that I could stand up the writing sets and they were perfect as they only cost a few pounds each
Try to put a little of everything on your top tier/eye-level area. I initially focused on the writing sets being on the top tier of the table, but noticed that the stationery boxes on the 3rd tier and nearest the floor weren't really being viewed at all so I re-jigged everything on Thursday so that they were closer to eye-level
If you offer gift wrapping, try to have this on a separate little portable table, Mon-Thurs I had it in front of me on the top tier and ultimately it was a waste of space that would've been better used to place more products.
Offer incentives, people love a freebie and these days with the surge in the convenience of online shopping it's important that stores offer things that you can only get in store. Whether it's a free gift wrapping service, or a competition to win an item, it'll be more likely to get people to your stand if there's something extra in it for them
Do demonstrations if possible, I had the intention of doing some painting while I was there but the trouble is when you're on your own it's not practical to whip out an easel and some paints and think that you won't need to nip to wash your hands or get fresh water etc. again this is another good reason to have 2 of you so that more interactive things can be done.
WAS IT WORTH DOING
Financially no, but for brand awareness yes. We made a small loss on our week there (I want to be completely transparent with you on all of this as I think it's important for people to know that sometimes things go really well, and sometimes they don't, when I used to do the craft fair in Cambridge we could make over £350 in one day but then make £35 the following week).
It sounds just plain nuts to claim you're not there to make money, obviously that's the intention, but for us the main goal with the pop-up was to spread the word about the brand and try something different. It is a financial risk based on the rent for the space, the commission, and just your time really but I'm still glad that we did it. Our thinking was it'd be ideal to sell there a week before Mother's Day but daftly it didn't enter my mind about the fact that it was the week before all energy prices were going to shoot up and so it was a mistake of mine to choose that time rather than wait a bit in the hope that things settle a little.
WOULD YOU DO IT AGAIN
I would but not in the space we were in within the store as even though it's a high footfall area being by the escalator, we were opposite cookware and as there was no promotion at the entrances a lot of people just wouldn't have known to find us there, plus quite a few people said they felt they couldn't stop and browse as there were always people walking past and trying to get off the escalator. It'd be ideal to have a bigger space (positioned closer to or within our relevant category) in order to do some little workshops, and I'd definitely have a second person with me the whole time so that both the workshop & sales side of things would be covered. I'd also give myself longer to prepare, this was very rushed for us and if we had more time we could've promoted it on more channels and been able to get people involved in the interactive side of things.
I have to say that despite the fact I am a very content introvert that's happiest in my studio talking to the cat, whether he likes it or not, I really enjoyed talking to the customers. I met some absolutely lovely people that chatted away about their love of stationery and letter writing. All in all it was a great experience and if you give yourselves plenty of time to prepare and promote, then it's a really good way to get your brand out there.