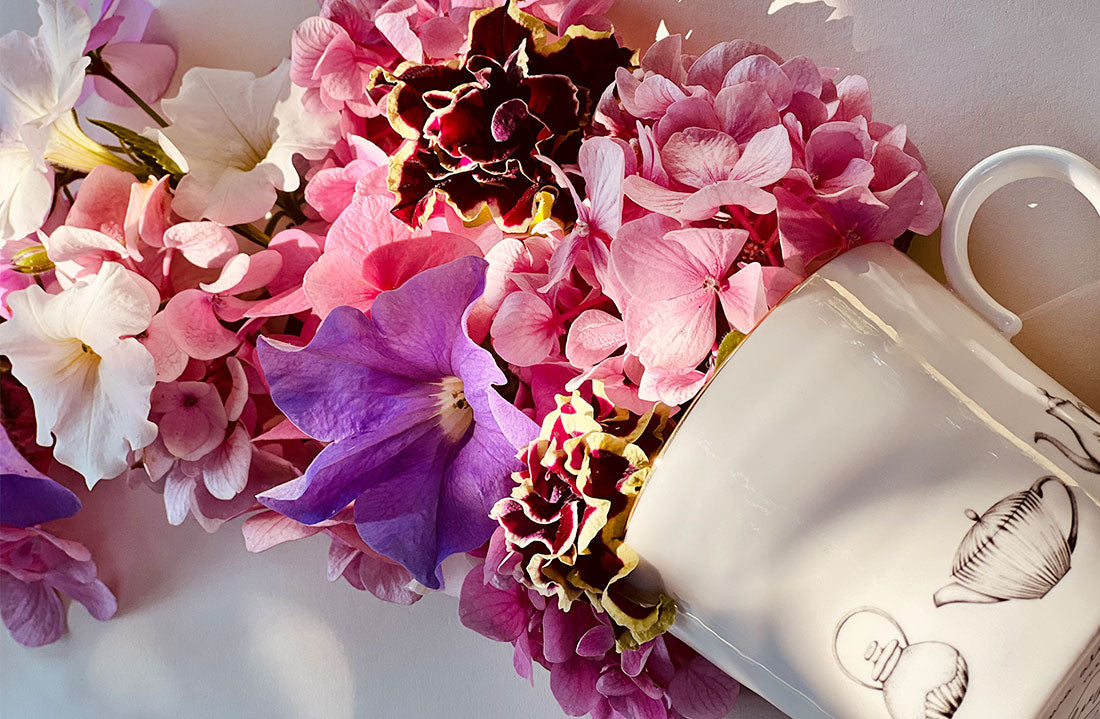 National Afternoon Tea Week
Ok so I might've thought it started next week on the 15th August, discovered yesterday morning that it started on Monday. So that was good.
Cue frantic photography. Yesterday was spent in the blazing heat finding the prettiest flowers in the garden to add to the image above (and before we receive emails saying how if you try to make tea out of any of the flowers used you'll poison yourself they were purely for prop purposes only, promise!)
Naturally we are going to put a few photos of our Afternoon Tea Collection on here, but what I think you might also appreciate are a few of our personal favourite places to visit for an amazing Afternoon Tea!
For over 10 years my friends and I have had a tradition of getting together for afternoon tea (this is where the inspiration originally came from for doing this stationery theme). All of our birthdays are in April and we love a bit of tea and cake so each year we also pick a new location to try out. There are so many amazing places now that offer it, and so it's tricky to name a definitive place that stands out the most, but there are a few that are definitely at the top of my list & have very different experiences.
THE SAVOY
The Savoy is the ultimate classic and refined traditional afternoon tea experience. The interior is simply stunning and the sheer volume of tea and food that you are offered means that by the end you can barely move! We sat in the main room next to the decorative pergola & tried our very best to be ladylike whilst making our way through countless sandwiches, cakes, scones & about 3 pints worth of tea. Then a waiter came by with the cake selection which we didn't even know was part of it, as we'd already consumed our bodyweight in tiny cakes. By this point there was a pianist playing classical music pergola and despite being at the point of needing to be rolled out of the room in a classy Violet Beauregard fashion, we just sat and enjoyed our time in this amazing place. Image reference: The Savoy 
SKETCH

If you love places that really go to town with 'the theatre' of food presentation & really beautiful interiors then Sketch is for you. They do afternoon tea in the parlour & we visited when the theme was all about the pink. It has only this year had a revamp and gone from pink to yellow and even though I have a fondness for the previous design, the new one looks equally opulent & somewhere that's perfect for a special occasion. Everything there is like a work of art. When we were there a few years ago the cake stands were wonderfully quirky & they did things like miniature cheese toasties served as an alternative to the standard finger sandwiches, so if you want a more alternative afternoon tea then you will love it here. The quality is excellent, in lockdown I noticed they were doing a home delivery and I wished I was closer to London as you can't really get anything of that quality in Cambridge. Image reference: Sketch 
PEGGY PORSCHEN
The most instagrammable & beautifully decorated front façade is simply stunning to see in person. On their site they describe themselves as, 'A destination for escapism, dreaminess and an unwritten permission for visitors to creatively connect with their inner-child.' I'd have to agree with that as you're already excited about being there before you've even stepped through the door purely from their attention to detail with how they design the outside. The food itself is as tasty as it is beautiful, & we were lucky that it was a lovely sunny day & so we were able to sit outside. They have two different parlours, one in Belgravia & the other in Chelsea. Image reference: Peggy Porschen
British heatwave aside, time for tea…
The temperature in Cambridge should be hitting around 32 degrees today, yet despite the seriously toasty weather we are having right now, I still always have a cup of tea in the morning! I'm partial to a good mug, & from looking at all the ones I've collected over the years, I definitely have a mug obsession. This is what led to the idea of doing something a little different for our Afternoon Tea theme.
For the mug below, we collaborated with British ceramicist Emma Alington to create 50 handmade bone china mugs featuring a row of illustrated teapots from our Afternoon Tea range, and for a little extra luxury they are finished with a 22k gold rim. Each one features your own unique number from the 50 produced & we also include 4 individual organic teabags by British tea company, Joe's Tea Co.
A lot of work went into this theme as we wanted to do as many illustrations as possible (well over 100) to convey the beauty & level of detail in everything that goes into making a proper afternoon tea. From the cutlery & crockery, to the delicate cakes & abundance of tea flavours. 
We hope you like our designs & that even if you can't go for a hot tea right now you'll make a good go of polishing off some lovely cakes!