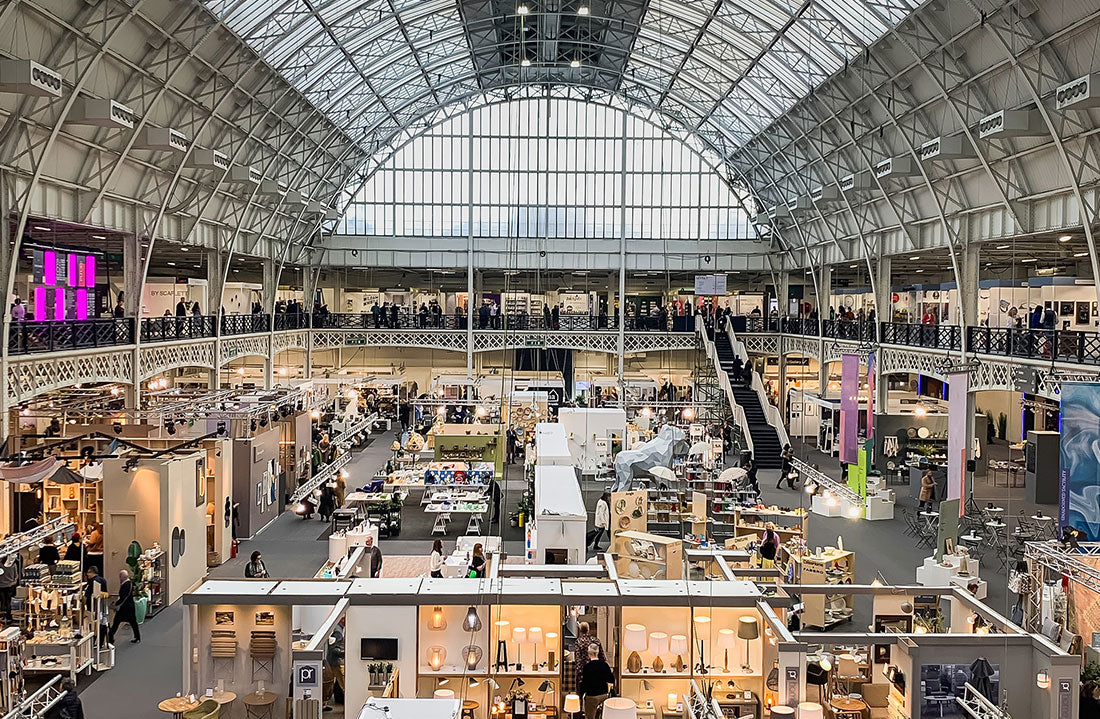 Guide to doing a UK trade show
We recently did our first ever trade show at the January 2020 Top Drawer at Olympia in London, and once I'd signed up I searched online and found a few blogs but there were a few years old and so thought writing this might help anyone thinking of doing it themselves.
I had a load of questions about doing a trade show, so for this I have done a combination of details, images and Q&A to try and cover as much as possible. Feel free to get in touch via the contact page on our website if you have any other questions though. It's pretty daunting doing your first show so I'm happy to help if I can!
WHAT IS TOP DRAWER?
I'm nabbing this from their site as it sums it up better than I will!
"The UK's leading lifestyle trade show for design-led brands across Home, Gift, Fashion, Craft, Greetings & Stationery, Play, Food Emporium, Wellbeing, Pulse & Spotted."
WHAT OTHER TRADE SHOWS ARE THERE LIKE THIS IN THE UK? WHY DID YOU CHOOSE TOP DRAWER?
There's Home & Gift at Harrogate, and Spring & Autumn Fair at the NEC in Birmingham but the NEC is huge so we wanted to go for a decent size and Olympia worked. For stationery businesses there's also the London Stationery Show at the Business Design Centre. There may well be others but these are the ones I know of.
WHAT IS "SPOTTED"?
Spotted is a category by Top Drawer specifically for businesses that haven't done a trade show before, so it suited us down to the ground! There is a dedicated section for Spotted, and they like to do a variety of brand categories which helps you to stand out more.
You can obviously only do Spotted once, if you love the experience and want to do TD again then the next stage is 'Pulse', and then after that you go on to the main stands. Spotted has a reduced rate for a stand as it's your first.
HOW DO YOU APPLY?
Go to the website and fill in the details: https://www.topdrawer.co.uk/STANDENQUIRY#/
There are a limited amount of spaces for Spotted and so your work will be reviewed by Charlotte Abrahams who is the curator and if successful they will get in touch with more details and then you pay for the stand then get sent the TD sign in details.
HOW MUCH DOES IT COST TO DO SPOTTED TOP DRAWER?
For the SS20 Spotted stand it cost £850 for a 2x1m stand (it included 2 x spotlights, carpet panel, white painted stand & a brand sign). Larger main stands cost more. Note that they change the layout and options each season so it will most likely differ a bit to the above size and price if you apply.
WHAT EXTRA COSTS ARE THERE?
You can pay to have your stand painted by the TD contractors or can paint it yourself but you have to paint it back to white at the end of the show. We stuck with white as it goes with our brand. We did have an issue with several scuff marks on the day we arrived for set up but you just have to report it to the on site contractor and they will get it touched up (ours was done within 30 mins of reporting it but they can't give and exact time, we were lucky). We were advised to paint our stand to make it stand out a bit more, which in hindsight I wish we had done, but hey lesson learnt! The other costs are for added lighting, internet, electricity (take power banks for your phone / ipad etc if you don't want to pay for plugs), furniture for hire (we hired a chair only as our stand was pretty tiny!) You also have to have insurance and they offer it at around £200 but as we already sell at the All Saints Craft Market in Cambridge we have got traders product liability insurance, so I just emailed them a scanned copy of it and it was approved.
ON TOP OF THOSE BITS YOU ALSO HAVE TO FACTOR IN:
Travel costs – We were extremely lucky in that my brother-in-law Dom and sister Claire offered to drive us there, which was a massive help! You can go on the Olympia voyage website and book a free 30 min drop off on site, you get allocated a slot based on zones (this is determined by the category your stand is in) and need to be prompt, we were 20 minutes early but they were fine and let us in) don't forget that you need a high vis jacket when setting up. I did initially think Gav and I could just go via train from Cambridge to Kings Cross then on the underground but unless you are selling teeny tiny things then I strongly advise to drive and park as my arms would've fallen off if we'd had to travel with all our stuff via train!
I have to mention the journey home on the last day, it was an absolute nightmare! You see when it's the start, you can set up your stand on the Friday and/or Saturday between 10:00-20:00 and so everyone is turning up at different times, but at 5pm on the last day it's carnage! Everyone is tired and wanting to pack up and get home so if you are driving home just make sure you're prepared for the traffic because it's very busy. If you have the budget I recommend staying one more night at a B&B and going home the next day.
Accommodation – I stayed at the Hilton as it's literally round the corner from Olympia, and a five minute walk is all you want to do when you've been standing for at least 8 hours… it's worth the money trust me! I always look on Trip Advisor before booking any hotels and even though lots of comments say it's really dated I thought it was absolutely fine and the staff were lovely. Also one other thing is that when you join TD you get a sign in for all the set up, one thing I wasn't aware of is that you can get reduced accommodation rates at a local hotel, I'd already booked mine and didn't want the faff of changing it, but just bear it in mind.
Food & drink – Lots of people advise bringing your own each day as yes it's true it is expensive to buy at the cafés at TD (a tiny bottle of apple juice costs £3) but to be honest I just went for the easy option as there was a café right at the end of the Spotted area so I got my coffee & lunch from there (make sure you keep hold of all of your receipts for expenses etc.)
Products & props – The costs for making your actual products and displaying them, our display was pretty simple and we just got shelves from Ikea at £5 each, then a little white postbox for our 'Sit . Write . Send' campaign. The white table was a fold-up one from Amazon & I had Ikea boxes either side of the table with our catalogues, price lists & spare stock. The logo vinyl was from Printed.com https://www.printed.com as they also do all of our stationery.
HOW LONG DOES IT TAKE TO SET UP A STAND?
Ours took 4 hours, would've been half that if we hadn't needed the wall to be repainted. But obviously it depends on your stand size and layout. We also did a layout of our stand design on adobe which included the dimensions between our shelves and other hanging products, I would definitely recommend this or doing a mock up at home as it saves a lot of time.
After we finished Gav and I skipped off for lunch at the Pergola (It's on the top floor of the car park directly opposite the tube entrance outside Olympia). If it's open I definitely recommend going there as the food is amazing! We were the first ones there so did look a tad eager but we love food and I have a habit of reading through menus and knowing what I want days ahead of visiting so I actually was very eager. Also if you go on their website you can join as a member and you get a free prosecco cocktail. You see now why we were the first people there.
WHAT SHOULD I WEAR FOR SET UP?
Clothes that you don't mind getting messed up! We weren't painting our stand but the floors are dusty as anything so wear something comfy and take snacks as a lot of the cafes won't be open. You must also keep your high-vis on.
WHAT SHOULD I WEAR FOR THE SHOW?
Again I'd definitely recommend comfy flat shoes! You'll be on your feet all day for 3 days, so you could start off in heels but bring some emergency flats in your bag. They have a few cloakrooms where you can store your things but you do have to pay for it.
People do vary in terms of how they dress for the show, some are super smart in suits, some are very casual in jeans, it's totally up to you and what you feel comfortable in. I went for long sleeve tops and jeans with flat slouchy boots. Smart casual I guess.
ARE TD STAFF THERE AT SET UP?
Yes you have an allocated member from TD/Clarion who can help you with any questions, it'd be helpful if they wore different colour high vis jackets as it's a bit of a sea of yellow! But if you have the contact page you can call their mobile.
WHAT KEY THINGS SHOULD I BRING?
Cleaning clothes / products, I forgot and our Ikea units were dusty and ended up with white paint on them from the wall being repainted, Kit & Kin do eco wet wipes, these would've worked a treat! Pens, pencils, ruler, knife, scissors, rubber, white tack, tape measure, spirit level, laser pointer, tape. Print out little labels detailing your product name and SKU code so that people can easily see what's what. If you are busy with a customer it just lets people have a look and then know what is what. Bring a diary as you may book appointments with customers (or use your phone). If they give you their business card note the day and time you met them on the card itself, as you'll be speaking to so many people you'll lose track of who was who (my memory is terrible so I needed to do this). 
As mentioned earlier once you've signed up for TD there is an e-zone for exhibitors that you have access to which has lots of info, take a print out of the floor plan because I got spectacularly lost on set up day on Saturday and spent about 20 minutes getting back to my stand, my sense of direction is as good as my memory.
HOW MUCH STOCK SHOULD I TAKE?
I took 2 of each product so I had a spare if anything happened. I also took a spare of each label just in case there were any minor issues.
SHOULD I DO A CATALOGUE?
We did because we thought it adds professionalism to the brand plus it's something potential stockists can take away for reference, but it's totally up to you. Some say just do an online version so you can send people a pdf, it obviously adds more to your costs so if you have the budget then go for it. We did 200 copies (we didn't need that many in the end, you'd probably be fine with 100), plus separate price lists. It's best not to include prices in the catalogue in case you make last minute changes, so as a rule of thumb just add the things that most likely can't or won't change. You just need the product name and SKU code below each image, we then did info pages at the back to include product dimensions, contents etc. Have a good selection of lifestyle images in there to make your products look as good as possible. Also as they are expensive to print it's best to keep them hidden and hand out to people that are genuinely interested in becoming a stockist and that you've obtained details from, hundreds of people will be going through over the three days which includes lots of students etc so you don't want the catalogues running out in a day. You can always then just leave out business cards as they are cheaper to get printed.
HOW SHOULD I PROMOTE MYSELF AHEAD OF THE SHOW?
Do lots of posts on social media, Instagram worked best for us, and follow TD and anyone that's posting and tagging. In the E-Zone area you also have the opportunity to do press releases and upload your products so that any buyers searching for specific products have the chance to find you ahead of the show.
As we are all about stationery we did a 'Sit . Write . Send" campaign on our stand, hence the little postbox. We offered anyone the opportunity to have a sit down and write a friend or loved one a postcard or a letter that they could then post in the postbox and then we would take care of the postage.
CAN YOU WIN ANY AWARDS?
Yes, and we did wahay! There's the Paper Awards, which is for the greetings and stationery exhibitors and we won Best Stationery Design. It's free to enter, you just send a pdf application for each category you want submit a product to then you have to send samples and they are judged. If you are shortlisted it's then down to a vote by friends, family and anyone else you ask really including existing stockists.
The other Paper Award winners were Raspberry Blossom for Exciting Use of Colour & Emotive Design https://www.raspberryblossom.com Type & Story for Engaging Print https://www.typeandstory.com and the Spotted Award was won by Batch.works https://batch.works
The prize for the Spotted Award was a free stand for the next TD, and our prize for the Paper Awards was a 6 month free trial with Press Loft worth £2100, a one hour brand identity consultation worth £250, a product photoshoot worth £250, & £50 free GF Smith paper when buying £50. Considering it was free to enter it was definitely worth it! Bear in mind the prize can differ though each season. It's such a great confidence boost though, makes the huge amount of work worth it.
Your products get displayed in the Retail Fest area which is great as it means it's seen by lots of potential buyers, and the other thing they did for the winners of the Spotted & Paper Awards was invite us all to take part in a seminar during day 3 of the show. Very nerve-wracking but was great in the end, we did a Q&A with Caroline Jackman from Crafts Council (https://www.craftscouncil.org.uk ) so each of us got to talk and go through various areas of how we got started, etc. She was lovely and really helpful plus she sent us all an email after the show had finished with links to helpful information that we might need in the future.
DO THEY DO ANY SHOW EVENTS / DRINKS ETC. FOR EXHIBITORS?
Yes they did a drinks evening at the Pergola on Sunday at 6pm. The most exciting bit about it was that there were free drinks! I didn't realize this at the time so at the end of the first day I wondered why there was practically a stampede out of the exhibition centre, I then went out to find the mother of all queues as every exhibitor is invited to the drinks event and by the end of a long first day everyone was in need of a drink or two! You'll have to queue for around 20ish minutes outside but once you're upstairs just grab a spare seat and then head to the bar. Not all drinks are free, they do a free white wine, red wine, & beer. If you want food or anything else then you have to pay.
WHAT WERE THE BEST BITS ABOUT DOING THE SHOW?
Meeting lots of lovely people on the stands around you; my stand neighbours were Sukun (https://www.sukun.co.uk), Dearest Fanny (https://www.dearestfannie.com), Katie Putt (https://www.katieputt.com)The Kindness Co-op (https://www.thekindnessco-op.com) and So Immigrant (https://www.soimmigrant.com). They were such an amazingly kind group of people and when you're there for a full 3 days it's great having the support of them around you and being able to chat and share ideas and experiences. We were an especially lucky bunch because the area we were in had a big space in the middle that they'd put 2 big tables and chairs at so that we had the opportunity to sit down and have lunch but not need to leave our stand. It was also good because if people were browsing near the stands it meant we could keep an eye out but let people look without the pressure of us hovering over them.
Charlotte Abrahams is the curator of Spotted and she visited every stand on the first day to have a little chat with us which was great. She'd also organised 2 webinars ahead of the show with Patricia van den Akker from The Design Council (https://www.thedesigntrust.co.uk). Each webinar lasted around 1.5hrs and it was a great chance to go through all areas from your cost prices, to your stand design to marketing & product design.
The other best bit was definitely winning the Best Stationery Design Award! We were over the moon when we found out, it was just a really exciting thing for us as such a new brand to have our products recognized amongst all the other amazing brands out there.
ANY NEGATIVES ASPECTS ABOUT THE SHOW?
You'll be inundated with random emails in the lead up to the show asking you to buy data of confirmed visitors. It's basically an excel sheet to give you an idea of the retailers visiting with their names, job role, company details etc. so you know who to target and so you have a list of it all. It costs about £250 and the level of emails drove me daft!
Cost – It puts a serious dent in your bank account plus all the extras really do make it go up. But if you want to grow stockists and get your name out there then this is the best way to do it. Plus you get to meet others like you and ask lots of questions.
Tiring – It's exhausting! Long days, lots of prep in the lead up, it's full on. Take painkillers and keep some little snacks and a bottle of water hidden somewhere as if you're on your own on the stand you won't get many chances to leave it. You can ask the person on the stand next to you to keep an eye out if you need to get a sandwich or nip to the loo but might be easiest to take a couple of print outs in little frames with "back in 5 / 10 minutes" in case the others around you are busy with customers. Just means people are more likely to wait around for you and you get a new customer.
HOW MANY ORDERS WERE MADE?
We were advised not to expect any orders on the stands but we got 14! I ended up using the price lists and the buyer filled in the quantity next to the product and then took a screengrab of it so they had a copy, and I clipped their business card to the page. I was then able to create invoices after the show had finished and send them all out on the Friday.
WHAT KIND OF PEOPLE DO YOU GET VISITING YOUR STAND?
On Sunday the majority of people there are from smaller independent stores from within the UK (but there are also international buyers), and then Monday & Tuesday you get buyers from larger retailers, stylists, bloggers & design students.
It wasn't busy at all times, sometimes we'd have a gap of 45 minutes of hardly anyone around the whole Spotted area so we'd take this time to have a sit down and talk to each other about how we were all getting on.
Be wary of people wanting to sell third party. This means people that want to buy your product and then re-sell it on Ebay, Amazon, Etsy etc. I had two women approach my stand and both were very interested in the faux leather writing sets and started asking if I could sell it to them without using my logo. I was a little thrown by the request so asked why and they both started talking amongst themselves saying, 'Well we can just buy them and remove the tag and stickers then sell it that way.' They were saying all of this right in front of me! So I told them that we do not sell our products third party, our products are our designs and so that they weren't allowed to buy anything. They nodded and walked off, so it was definitely an interesting moment and a bit of an eye-opener. This was a one-off and every other person that came on to the stand was lovely and a pleasure to talk to, but it's just part and parcel of trade shows that there will be people either trying to copy your designs or buy them and remove your branding. So when people say they'd like to buy from you, don't be afraid to ask them all about their business, are they online or bricks & mortar, what kind of products do they sell etc.
DO PEOPLE HAGGLE?
It does happen however for us we only had resistance against our gold foiled greeting cards which we already knew would happen. Due to being a very new business we could only initially buy 50 units of each design and when you do that with foiled cards it's very expensive. We weren't even going to offer them as wholesale lines but then felt we needed an idea of who would be interested in buying them so that for future orders and new foil designs we could be confident in ordering a larger volume knowing people want to buy them.
The other thing is making sure that your RRP is correct against your cost price. We aren't VAT registered yet as we're a new and small business however most of your potential stockists are, and so you need to factor that in to your prices. The rule of thumb is to multiply your cost price by 2.5 to give you your RRP, but you also need to do a bit of comp shopping online to check that this price is right in comparison to others selling similar items (but bear in mind that comparing to large retailers isn't always the best as they can afford to buy huge quantities and offer a lower RRP).
WOULD YOU DO IT AGAIN?
Yes I would. It's extremely hard work but for us it was worth it. They even had TD/Clarion staff coming to us during the show to see if we would sign up for AW20. They do an early bird offer but for us we couldn't confirm it so soon as we didn't have a true idea of how many orders would go through so was too risky to sign up so quickly.
ANY OTHER TIPS?
Make batches of stock ahead of the show and be honest with your lead times – We initially put 7-14 days on our terms but had to increase it to 'up to 28 days' due to the fact that we got more orders than we anticipated and more volume on the handmade items. The show finished on Tuesday 14th January and I have had to work 12-15 hour days without a day off since then to fulfil all the orders that were placed; I even had to enlist the help of my sisters (thank you Rach & Clairey, love you!) for things like folding cards and making wax seals as I had over 900 of them to make!
Have a second person with you at the show – I did the show on my own for Sunday and Monday and then Gav came to help on the stand for the Tuesday and having him there was such a huge help! In hindsight I wish I'd asked him to be there for all 3 days but he has a full time job anyway and so wasn't fair to ask, but you can always ask a friend. It just helps to take a bit of the pressure off you being the only point of contact with so many people over 3 days.
Be confident about your work and have all the information about it to hand – People interested in buying will ask about your products, what inspired you to do them, how they are made, what materials they are made from, and then will ask about the MOQ & MOV (Minimum order quantity & minimum order value) and delivery charges. You may also be asked for exclusivity within a certain area/town etc. So basically you can't sell your products to another retailer within that area so that there's no competition. This is to your discretion but if you plan to do it then the retailer buying your products needs to order a decent amount of stock otherwise you risk losing out on sales.
Talk to other stands – The one thing I didn't get to do as much as I'd hoped to was to talk to people on the bigger stands downstairs about all sorts of things such as logistics, what kind of quantities do they order, how did they grow as a company etc. That's why it's good to have a second person with you as you then get to have a look at other stands, talk to people, attend the seminars that run all day over the 3 days in different areas and just have a bit of a breather.
Get help online – There is so much information to take onboard that it can be very overwhelming to someone starting out, both the Design Council & Crafts Council offer help with lots of different areas.
Well I hope that's helped you in some way…either you'll be inspired and want to do a trade show or you might now be asleep at your screen! Sorry about that. As I said at the start I'm happy to help with any other questions you might have, there is so much involved in doing a trade show that I know I haven't covered it all so please get in touch via our contact page on the website with anything else.