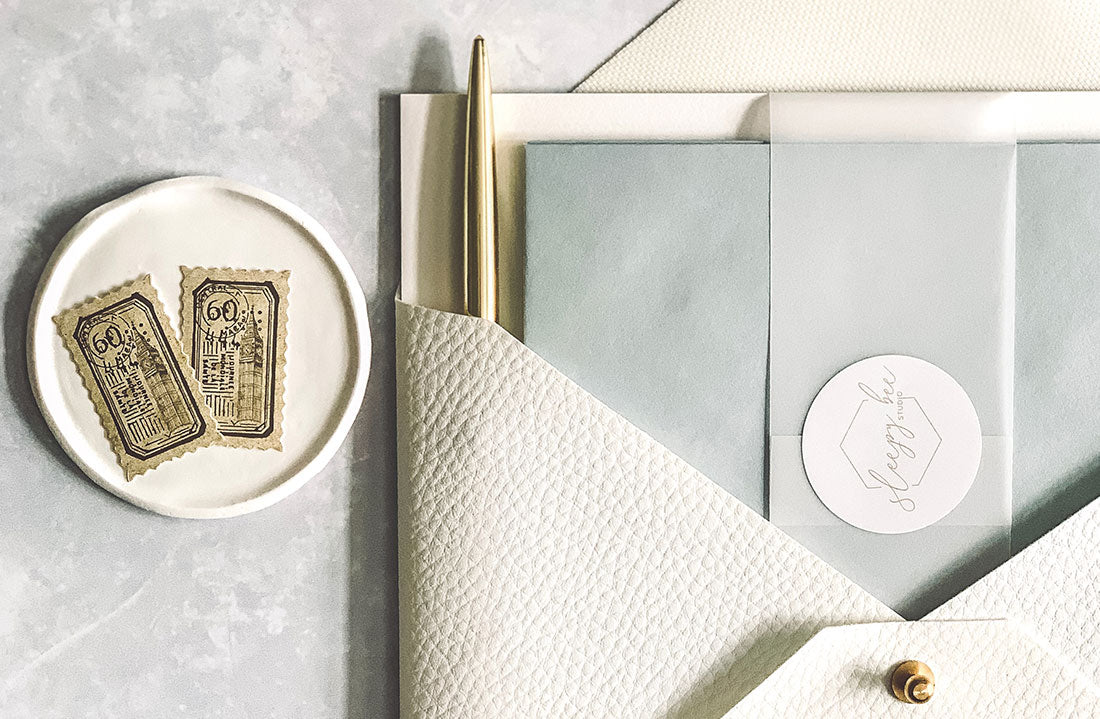 The importance of writing letters
What with the launch of our new Ethereal Collection, it seemed fitting for our next little blog post to be all about the importance of writing letters.
One really important benefit is that it promotes mindfulness. You can type and text at record speeds but there's only so fast you can write a letter (well, one that the receiver can read anyway!) Similarly to drawing or painting, it creates a sense of calmness and relieves anxiety, the whole process forces you to slow down and take care with every word. Unlike an email or text where you have the constant opportunity to delete and re-write with ease, with letters you are carefully considering what you are writing about, your mind is able to focus on the content.
It encourages more positive thoughts; when you're having a bad day it's very easy to quickly vent your frustrations in a text on your phone and ping it over to someone, but when you've taken the effort to write a letter chances are you're doing it as a lovely surprise to someone and so you sit and think about what news you'd like them to know, what story you want to tell to make them laugh. 

On the flipside it is quite a therapeutic way of being able to convey your thoughts to someone you trust in the way you'd write in a diary or journal. Loneliness in this time of worldwide isolation has such a significant impact on your mental health that even though the obvious and more convenient option of calling someone on the phone is something that is most definitely done, but a lot of people do find that sometimes it's easier to be more honest in a letter. If you speak to someone on the phone it's a continuous two-way thing, natural interruptions from the other person will happen, and from their tone of voice you may think that it's not the right time to talk about what's on your mind. With a letter you're in your own space and can compose your thoughts in the best way for you.
The importance of writing letters was my inspiration for Valentines Day. This year I decided to write a series of letters to Gav, so that he had one to open each day for a week. Naturally being a packaging geek the way I presented it was important, and a wax seal had to be included in there somewhere! So I made a little navy gift box (image below) to hold all 7 letters in and he said he loved it (fellow packaging geek!) because it was something different and that he loved the process of opening a new letter each day. Yes it took time to create and to put together the 7 letters but it's something that is so worth it in the end as it's something that will be treasured and re-read again and again.
Our writing sets & stationery products have had a definite increase in sales in the past few months as a great deal of people wanted to get in touch with loved ones in a bit more of a heartfelt way than sending a text or doing a Facetime chat. Naturally as stationery designers and retailers we were happy with the consequent uplift, but what made it even better was the feedback and messages and overall feeling on social media of how much people actually enjoyed the process of taking the time to write to someone; and even better just how happy the recipient was.
It's great to see people taking up this method of correspondence, however we do know that when things go back to normal (if there is such a thing anymore) that it will revert back to a degree, and that's to be expected as peoples lives get busier again. My hope is that for some people at least their eyes will have been opened a bit to how important it is to slow down a little and make sure that they take time for themselves and others to catch up in a meaningful way. That something so seemingly simple as a letter can have such a profound impact on another person.