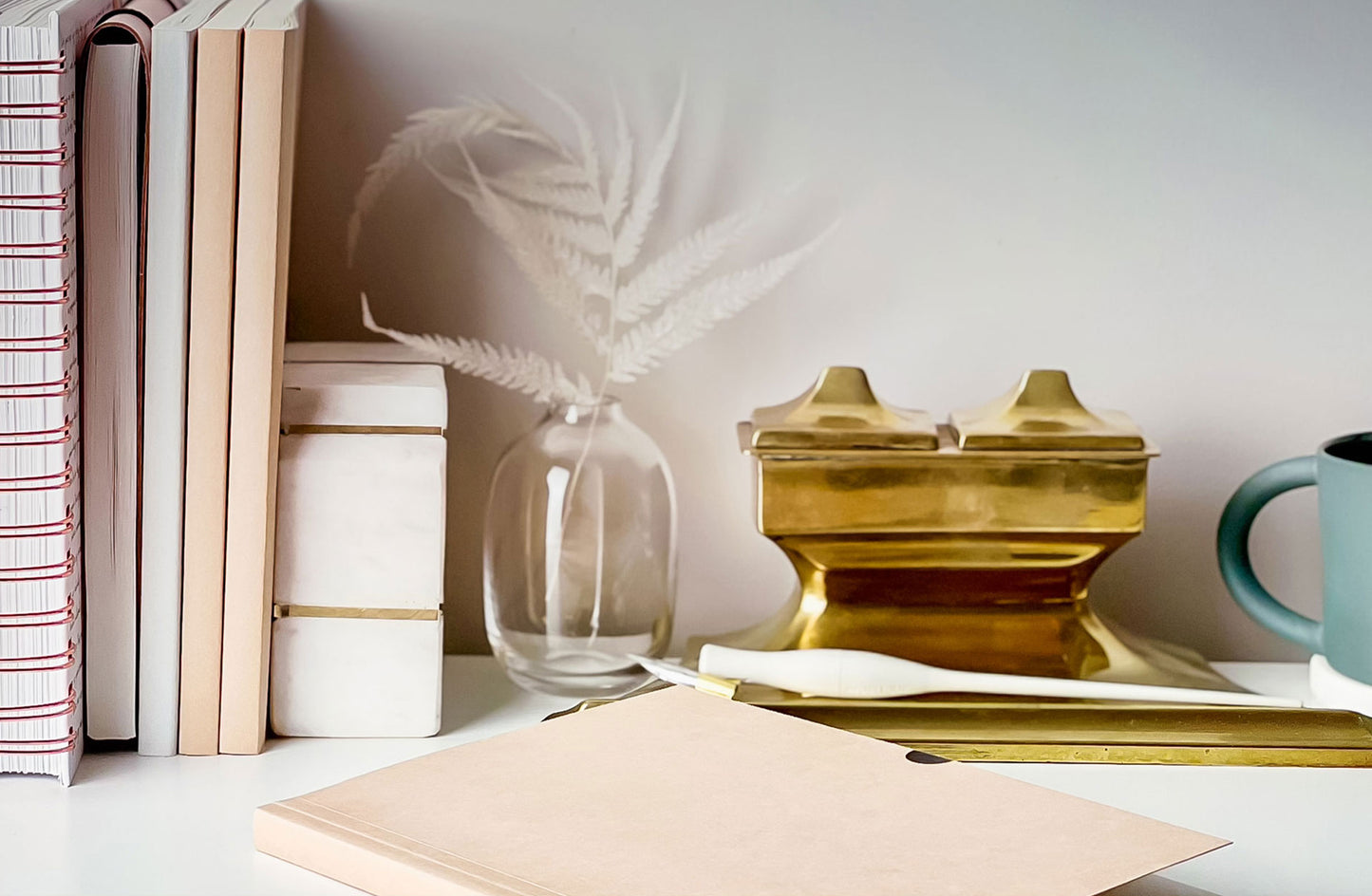 Notebooks, Journals and The Joy of Lists
If you are a stationery addict like me, you will of course know of the giddiness-inducing joy & equal fear of starting the first page of new notebooks and journals. The handwriting has to be perfect; sometimes I've even started a new planner/notebook/journal with a pencil as I just don't trust myself & the anxiety of having to ruin a page with a harsh line through the mistake you just made with your pen is too much. By page 3 it's a little less neat, by page 10 it resembles your writing from when you were the actual age of 10.
There's also the stress of the layout, the decision to go crazy and underline the title, straight line means having to go and find a ruler in the 'stuff' drawer, the alternative is the trusty tiny wavy line you used at school. You also declare that now is the time to use the teeny tiny gold emoji stickers that you bought 4 years ago (but then decide not to as they are too pretty and shall therefore never be used.) Once all that initial fear has subsided a touch, you get brave & start jotting away, yippee!
I can't be the only one out there who gets into bed at night & whose brain suddenly decides that now is the perfect time to process every little thought, conversation & mile-long to do list from now till around 3am. Not just me? Ok, good. Counting sheep doesn't work, as I never was good at maths & my memory is terrible so I keep having to start from the beginning after 30 or so. I then move on to question the effectiveness of the Night Nurse tablets that went out of date 8 years ago (even though I still decide not to throw them away, and back in the cupboard they go.) So, after years of this extremely tiring routine, the only thing that has helped is to write it down.



For a bedside notebook it doesn't matter to me one bit about being neat, mainly because I'm blind as a bat without my glasses, plus it's the middle of the night so I literally can't see how bad the writing is. But nevertheless I crack on writing down everything in my head in the hope I can get back to sleep. It's all pretty much a simple list of everything I know I need to do but don't want to do. This is a common method given to people, and I have to say that it works for me. As previously mentioned I have a terrible memory, I have to set an alarm for literally everything on my phone, and so for me it's a necessity as if I don't write stuff down it will be forgotten at Dory speed.
I always use one of our little A6 notebooks for night notes, as they don't take up too much space on my bedside table. However if you're a devout A5 person then we'd love to hear from you on what you'd like to see from us in the future & what for you is a perfect notebook. The reason we don't currently do them is purely based on budget, as we are a small business that's still under 3 years old, we made the decision to focus more on the other stationery elements, as what's available out there is vast & to do a good notebook, planner or journal means investing a lot & committing to a high order quantity to make it relatively cost-effective.
Research shows that 'journaling' can help us manage stress by understanding what's going on in our minds.
Once something is down on paper, it helps you to focus on your thoughts and feelings. You then develop a level of structure around them by taking away the pressure of multiple thoughts all swirling round your head. If it's either a list or written as a journal, or a bit of both, you can start to work through things one at a time rather than panic about it all in one go & feel completely overwhelmed. With a journal, it can also help you notice your habits & if there's anything that you could change to make things a bit easier on you from day to day.
In regards to other notebooks and journals, my current journal is an A5 one by Mark & Fold & I also bought a mini printer (yep I'm a gadget geek) so that I can print photos and add them in. Looking on my iPhone I currently have over 3500 photos on there! Have a little look on your phone now, how many photos are on there? How many of them have you had printed out? I think everyone is guilty of going to town with their camera phone knowing how easy it is to simply delete what you don't want to keep and then hold on to the rest, but when the photos get into the thousands they can get lost in an endless stream of images, & most won't see the light of day again.


Every year Gav asks me what I'd like for my birthday or for Christmas & every year I say the same thing. A photo book please! Cue the 'Nooooooo!' response (the language is a touch harsher but you get the gist). After our wedding Gav made a beautiful wedding day photo album & we keep it in our coffee table drawer (Ikea strikes again) along with the photo book he lovingly made, with a gentle nudge from myself, of our honeymoon to Thailand.





I made one for him of our trip to Edinburgh with a group of our friends, and I'm glad that I did because it made me see exactly why he nearly cries every time I mention it, they take ages! Don't get me wrong there are a lot of photobook & photo-journal businesses out there that try to make it as easy as possible for you and if you want a simple 1 image per page option then it's simple, but when you have hundreds of photos & you want each page to differ in layout & to add text to it as well, it takes a serious amount of time, patience & wine to make it through the process. But with something such as this, the time you invest is always worth it because I love to look through my old holiday journals & photobooks. It's the same feeling as with letters, it's a different level of emotion involved when you physically have something in front of you that transports you back to that time, rather than just looking at it on your phone or on Facebook.





So, will 2022 be the year you decide to write it all down? Lists, a photo-journal, a dream diary, or a daily planner. Whatever you feel inspired to try, it should be something you look forward to doing. The thought of spending ages writing things down every day can daunt people and make you feel like you're back at school being made to do homework; so just aim to set aside ten minutes in the morning with a lovely hot tea or coffee, or instead write just before bed. Whatever time you write, make sure you set the scene by playing some calming music & if evening writing is your preference, light a candle and get cosy. When you're feeling comfortable & don't have any distractions it'll be easier to get in the zone & you'll be amazed how quickly the time goes & how much better you feel afterwards, we have touched upon the feel good effect in one of of our earlier blogs;

'The importance of writing letters'.