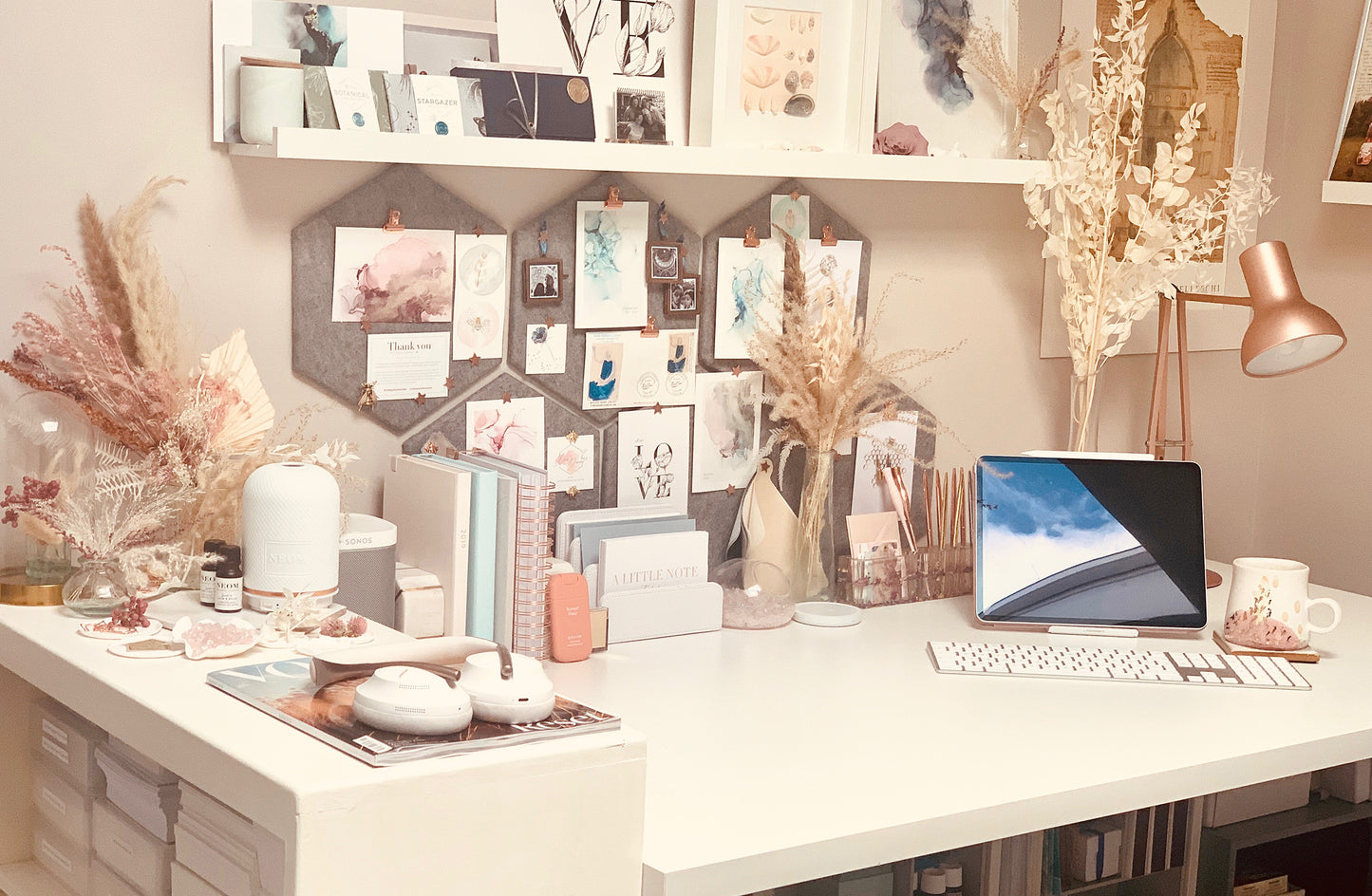 Designing a creative office at home
It's not just stationery and gifts that I love, I'm obsessed with interior design, thats why designing a creative office at home was so important to me. I've always been drawn to artistic subjects and so after completing my art & photography A-Levels & foundation art diploma I did a degree in interior design. As we were combined with the architecture group, the first two years were very heavy on learning programs such as AutoCAD & 3D Max, and learning all about the engineering side of building.
The thing I enjoyed the most was the bit where I got to make scale models and do more of the creative side of things. So by the end of the course I decided that I want to work in an area that combined creativity with the practical side of how to design and produce items for retail, that's ultimately how I ended up working in the buying industry for over 8 years. I never lost the interior design addiction though, and it's part of why I wanted to do this blog about designing a creative office at home.
In retrospect it was a tiny bit of a naive thing to decide that the best way to get away from the stress of working in a buying environment was to start my own business. Anyone who owns their own business is probably snorting with laughter at this bit.
Yes there are lots of fantastic bits about being your own boss but my word is it difficult. Bang goes holiday, benefits, the reliability of a monthly salary; absolutely everything is down to you to organise and so that's why the space I work in is so important to me, there have to be certain elements that make it a positive place to be; so that's the other part of why I wanted to write this blog.
DESIGNING YOUR WORK SPACE & USE OF COLOUR
The good thing that came from my degree was a better understanding of space, colour and the elements needed to style a creative interior and within it a creative office at home. Gav and I live in a bungalow and whilst it has a space drawback (purely based on the business stock finding its way into every room in the house) we also absolutely love our home. Both being designers we have equal input, for the most part, in how we decorate and fill each room and from what friends and family have all said, it's a lovely space and something that is important to us.
The studio was originally a pale shade of blue, but I ended up finding it too cold and so decided to go for a variant of Pebble Beach (bought from the B&Q Home paint area) with more peach in it. I have developed a slight obsession with blush, so it's sneaking its way in everywhere.
My point with colour is not to be afraid of experimenting with it, if it goes wrong or just doesn't feel right after working in it for whatever duration you can simply paint over it. I just know that from going from a cool to warm colour it has made me feel like the space is more relaxed.  Feng Shui suggests that warm tones are the best for creativity and cooler ones for more logic-based work. I do all my costing spreadsheets & admin work in Gav's office next door to mine which is painted duck egg blue, so I'm all for believing in it!
One of the best benefits about working from home is that you can add your personal style into your workspace. If your office space is pretty small then a few key items like little plants, desk organisers & bookends for your notebooks, planners etc. are a good place to start as they can be used to introduce decoration in addition to being practical. If you have a nice big space to work with then try to divide it up so you have your desk area then a comfortable armchair and coffee table to have a bit of a chill out area along with some big pot plants, as plants improve air quality by removing impurities & are also thought to alleviate stress. Throw in some candles or a diffuser and you'll soon be working somewhere that you actually enjoy being in.
If you're a fellow creative you'll know that 'artists block' can hit pretty swiftly and so it's good to have an area with some magazines or books just so you can refresh your mind a little. Staring at a blank canvas, iPad screen, sheet of paper and not being able to get going is definitely something I struggle with, so I have a magazine or two to one side of my desk just so that I can get a bit of inspiration if I need it, or just focus on something else in the hope of a little creative eureka moment occurring!
A great deal of people are quite content, and rightly so as everyone is different, with having the bare bones for an office. The practical sense of thinking all that's really important is to have a desk, a chair with decent back support, a computer and a notebook. I wish I thought like that as I'd have saved a small fortune over the years!
I need my surroundings to be aesthetically pleasing in terms of furniture & accessories and how it's laid out as it really affects my mood. So when you're designing your creative office at home try not to think of it as a waste of time or money, as you'll be spending a good majority of your time there. You'll be working on potentially stressful projects, tight deadlines and online meetings, so whatever you can do to improve your surroundings that alleviates any stress is a beneficial and healthy thing for you to do.
So with the studio that I work in, it initially started with the desk being right in the middle of the room, directly under the big vellux window to get as much light in as possible, and then to have all 4 walls lined with picture shelving for inspiration, product development etc. As the business has added in new lines, my studio space has changed just a tad.
The desk is now in the corner of the room and then behind me are a selection of shelving and cupboard units that are full to the brim with products. It initially stressed me out to a ridiculous degree losing my original layout, but it had to happen as I was literally tripping over boxes and needed to reconfigure the room so that I didn't risk a broken leg in the name of stationery each day, I love stationery, but not that much.
The compromise I made was to make sure that my main desk remained a creative zone, that had a fairly minimal amount of things on it and that I had a little space at the side to put my Neom diffuser, flowers, magazines, and my headphones. As I've said in previous blogs I have this pretty impressive skill of creating total chaos every day when I work, and so by noon the office looks like a hurricane has swept through it; but I always re-sort it all in the evening so that in the morning I walk in and feel a little more zen-like and productive.
So many people have had to adapt to working from home since March and obviously for most it's not a permanent thing, but for a lot it's now going to be their official working space and so it's important to make it into a space that you feel comfortable working in. As I mentioned earlier it can be the smallest additions that make a difference and so don't feel that you need to invest a lot of money to achieve a more positive working space. 
Just as a note, none of the items & brands mentioned in this blog are paid for advertisements for any company, it's purely so that you know what's from where in case it's something you may like too.
GET CREATIVE WITH YOUR WALL DISPLAY
I get a bit carried away with moving things around, even during taking the photos for this blog I've rearranged certain areas a good 3 times, as you'll spot in the images! It drives Gav nuts, he can see me when I'm doing a room scan as apparently I have a very specific 'I want to move that' look that gets an immediate 'NO!' from him before I've even said anything. Don't worry I ignore him most of the time.
So with the white Ikea picture shelves (they are called Mosslanda) I have in the studio this is where I vent my moving obsession. Below are a few little 'shelfies' from the rails around the studio showing how easily you can change the space around you. It's important to get different heights in there along with some little accessories to break it up. I always use things like dried flowers, feathers, little candles and small vintage bottles. Charity shops are perfect for collecting little bottles, they also come in handy as photography props.
OFFICE FURNITURE AND ACCESSORIES
If you are designing a creative office at home and have an arts & crafts-based business, you need plenty of desk space. The desk I use is an Ikea hack, we bought a Kallax white 8 unit, along with 2 adjustable legs and a table top. Then drilled the top to the shelving unit and attached the legs each side. Underneath contains all manner of stuff! Paint, ribbons, paper, ink, you name it it's probably under there. It's useful because it keeps it close by but essentially out of the way so that you've got more space on the desk and the walls for other things. The width of the desk is 150cm which is ideal for when I have to pack up orders as it gives me plenty of space without having to move everything else off the desk.
My hexagon pin board, affectionately known as the 'bee board' was from Amazon. I bought them as a set of 6 cork boards and then covered each one with pale grey felt. I wanted to buy more and fill the wall a bit more but unfortunately they sold out and as far as I know haven't restocked them. As you can see from the picture the bee board is filled with a mixture of products, little sketches, photos and material swatches.
I'm a very visual person, for me I need to have stuff right in front of me, as I'm an equally forgetful person, so if I stored everything neatly away in files it'd never see the light of day again. This was why I wanted each wall to have picture shelves, so that the products and ideas were everywhere. In hindsight I should've left the back wall bare and installed a floor to ceiling shelving wall so that I was using all that space for stock, but we have future plans for a studio in the garden so decided it's not worth spending too much on changing this current space.
With stock shelving, yep you guessed it from the above image I have another Kallax cube. As it's on its side it has enough space to put our illustrated tissue paper on, and I also bought a load of boxes from Amazon (Weston Boxes) to store my stationery in. If you add little labels on the front it's just a nice quick way to get to stock plus it stops dust getting on it. I also got some lovely faux leather paper drawers (Amazon again) for more stock.
On the desk is my Sonos speaker; we have music on all day in the house as I hate working in silence, and when I'm working on the iPad or on paper doing illustrations I always wear my Bose noise cancelling headphones and listen to meditation or classical playlists on Spotify as it just makes me focus so much better on what I'm doing when all the other noises and distractions are muffled out. Then there are my marble and gold bookends, notebooks, gold & acrylic tape dispenser & faux leather organiser (all but the notebooks are from Amazon), and my Ella Iconic planner. Not only does this planner look beautiful and very premium, (plus it has a colouring in page which frankly sold it for me) it also has lots of really useful sections throughout it so you can organise things by 'business', 'personal' etc.
I always work by time blocks, so for example if I need to make up 10 writing sets I know it'll take me a block of 2 hours to fully make them from scratch so I block that time out and try (my very hardest but doesn't always work) to dedicate that time to it. I've always struggled to manage my time as I'm so easily distracted, so whenever I buy a diary planner the one thing I have to have in it is a daily plan by hour so that I know how much I can feasibly get done in a day rather than write one endless to do list. Don't get me wrong a lot of the time there's always something that gets moved to the next day (or the day after that etc.) but it's something that definitely helps me.
The whole idea of getting ideas out of your head and onto paper is something I've always done, as I can really struggle to get to sleep at night if I've got a lot of ideas and general work bits in my head, so within the theme of mindfulness which is now thankfully focused on so much more, I would definitely encourage anyone to invest in a good planner or journal and get writing. It will start off all lovely and neat, with your best handwriting using your most fancy pen, but after a few weeks it'll get a bit more messy and that's when you can really go to town and write lists, random notes, do little sketches, write down your thoughts. It's very therapeutic, plus it's a refreshing change from typing to do lists on a phone or computer screen. It doesn't have to take long at all, even 5 minutes with a nice coffee in your favourite mug (mine below is a beautiful Anthropologie one, I have an obsession with mugs and glasses) will just give you the chance to have time to yourself and then you feel like you can manage it all a bit better.
The resin desk organiser in the image below is something I made, it's got peony, rose and cornflower petals embedded in it with pieces of gold leaf. As you might see from it I didn't do very well with multi-layering it as it's basically in two layers! Then I have vases dotted about of absolutely beautiful dried blooms from Reste & also from Hidden Botanics, the colours are so lovely and are perfect to use as props for product photography as you'll see from the photos on our Instagram grid. Then there is my rose gold Anglepoise desk lamp. I've always found it easier to work at night and for the work I do I need lots of light so this really helps as I can adjust it to wherever I need it.
On the side cupboard are the extra lovely bits and pieces; more of the beautiful Hidden Botanics flowers as well as pink peppercorns from Reste. My Neom essential oils diffuser was a birthday present from Gav (I subtly sent him a link to it 2 weeks beforehand), I use the 'Scent to make you Happy' oil in the day and the 'Scent to Calm & Relax', in the evening; you can also mix the scents together, I'm really hoping they bring out a pomelo or mango scented one! In front of it are my little handmade dishes I use for photoshoots filled with all sorts and lots of tiny rose quartz tumble stones.
I love crystals and want to gradually add more to the house but I'm still learning about how and where to use them (I'm sure I'm supposed to be getting some Citrine in here!) I'd also love to do a 'Serenity Collection' as a gift box that features crystal inspired stationery and comes with a small crystal that you can keep on your desk, one more for the theme list! Please let me know if this is something you'd be interested in or know of someone that would, as it's always really helpful to get feedback ahead of a product launch.
Well I hope the above has been useful to you, I think I've mentioned most of the important bits; but if you have any questions or there's a product you've seen that I've not mentioned please feel free to get in touch.