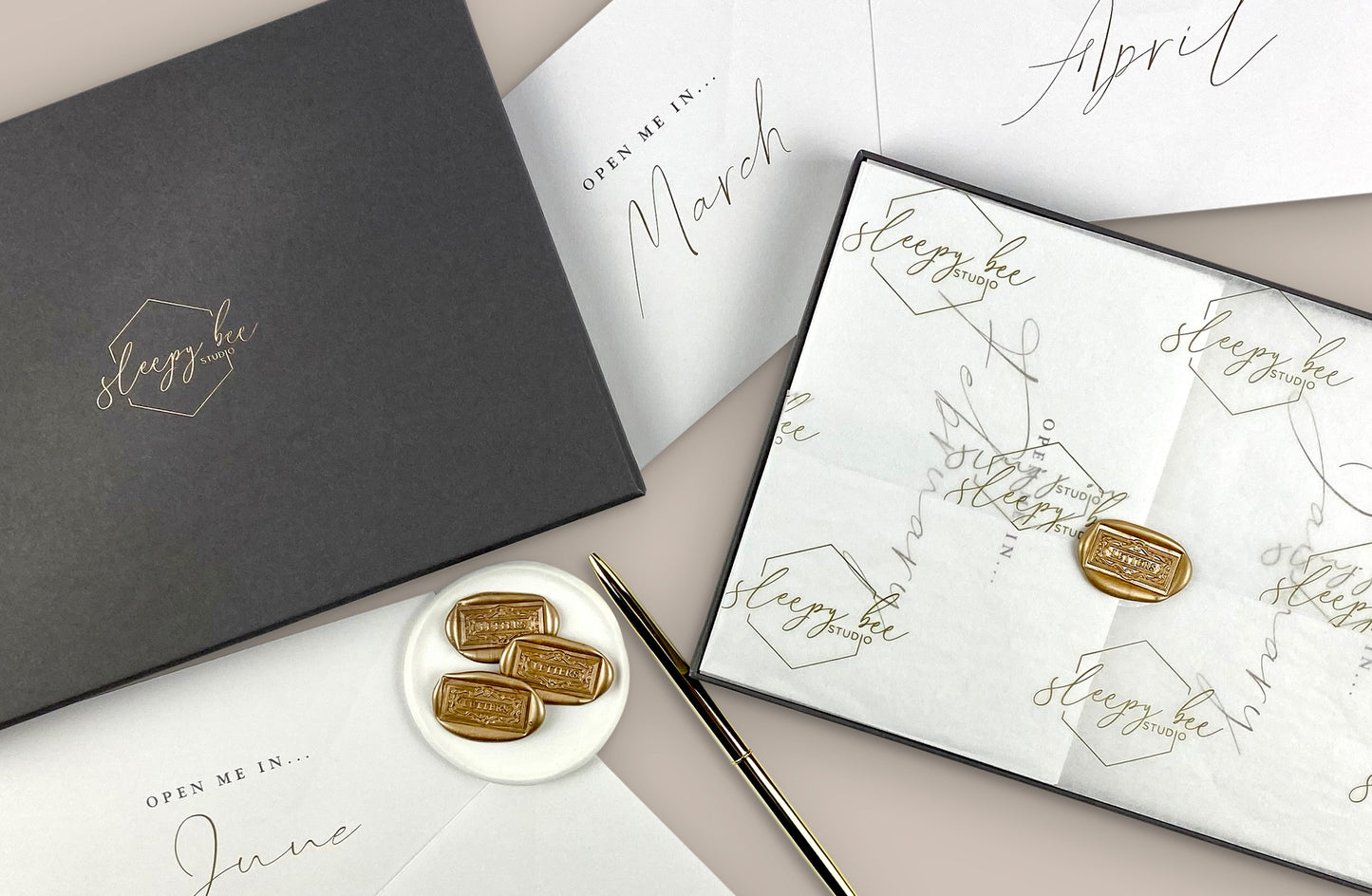 What makes a memorable gift?
Our new product, 'A Year of Letters', is the inspiration for this latest blog post, based on what makes a memorable gift. The thought that's gone into it, the way it's presented, the quality, the design, and the fact that it's something unique. These are all the things we wanted to encapsulate in A Year of Letters, something that once bought can be further personalised with all the various options available to add to the writing paper. Plus the added benefit of having something to look forward to every month for a whole year as opposed to the instant joy on the day it's received. 
Giving and receiving memorable gifts has been a particularly interesting subject for studies on human behaviour, with psychologists reporting that gift giving is a surprisingly important part of human interaction, helping to define relationships and strengthen bonds with family and friends. Stating also that it is the giver, rather than the receiver who reaps the biggest psychological gains from a gift. Which makes sense when you recollect just how good it made you feel to see the look on the persons face when they opened it.
Whilst I freely admit that I love getting presents (at any time of the year!) I equally love either making or finding something that I know the person I give it to will love. I honestly enjoy the process of wrapping it and making it look beautiful as the whole experience is special and when it's for someone you care for, you want them to feel truly spoilt. It doesn't matter what the actual monetary value is of what's inside, it's the thought that's gone behind it that you want them to cherish. 
We knew before launching Sleepy Bee Studio that packaging is a huge part of the gifting experience and so that's why so much effort goes into our packaging and presentation. As designers we love to experiment with materials and try to come up with unique and creative concepts that people will love; and the wonderful reviews and emails we've received from our online channels & emails sent directly to us are so lovely to read as it makes the effort and the endless hours put into development totally worth it.
Trying to pinpoint the most memorable gift I've ever received is very tricky, though something that definitely stands out are my crisp and sauce prints that Gav bought for me. I'm a total crisp addict and have an equal love for sauces, and so when he was in London for work he saw a collection of framed drawings by an artist and so bought the crisp print first and then commissioned her to do an original sauce print the following year. It was so special and made me laugh at how well he knew me to focus on a combination of art and food based gifts!
At Christmas in particular a lot of people end up in the all too familiar last minute panic buying mode and end up spending a small fortune on gifts to just get it done, rather than what that person actually wants. I've definitely done that myself, every year the intention is to plan ahead so that I'm not flying round the shops two days before Christmas (I hope to break the cycle this year!) The funny thing is that in the time you've spent zooming round multiple shops, you could've spent that time at home putting together something that may take some time to create, but something that has a far more profound impact.
Along with the thoughts behind creating a memorable gift, we created the Year of Letters product simply because we love letters; based on the fact that they're a wonderful keepsake gift with a lot of thought behind them. There are the existing 'letters to open when' gifts which are a great alternative option especially as the prompts are so useful in helping to write the content.
As mentioned previously above, one of the best things about it is how the receiver has something to look forward to every month for a whole year. With the current COVID-19 situation it's been clear to all just how lonely it has been for countless people living alone who haven't been able to interact with friends or family for months on end.
There's still considerable uncertainty as to when things will get back to a state or normality, if it ever will, but it has definitely brought about a lot of really innovative product concepts from other small businesses that I've seen online that focus on thoughtful gifting and the importance of maintaining communication with loved ones. 
As mentioned on our social channels we have aligned this blog with a giveaway for one of our Year of Letters gift boxes. All that you need to do is like the post, share on the comments section a memorable gift that you've received and why it was so special to you, and finally to tag someone you know who would also love the chance to win this.